As your stove gives you problems, it might make cooking challenging or even impossible. No matter its model or make, phoenix appliance repair from SRB Appliance Repair always is prepared to immediately handle stove repairs. We're available throughout the Phoenix, Arizona area for your convenience.
Why Pick SRB Appliance Repair for Stove repairs?
Our employees are experienced in and trained at performing high-quality repairs on all home appliances.

We're available to do fast repairs, and we always come ready with parts and tools to get the task accomplished sooner rather than later.

Our customer's satisfaction is our main priority, and we accomplish this through high-quality workmanship at the most reasonable rates.
When it comes to appliance repairs, your stove really deserves the best. It deserves repairs which will last and ensure that all of your meals come out as they should. Contact SRB Appliance Repair for reliable stove repairs in Phoenix, Arizona.
Fast stove repairs
Getting your stove immediately up and running should be a must. It isn't any fun attempting to prepare a meal on a broken or faulty stove. And not to mention the inconvenience or cost of ordering out. For quick stove repairs by skilled professionals, contact SRB Appliance Repair today.
Professionals You Can Trust
As you contact someone to fix your stove, you're trusting those technicians to properly get the repairs done. Not just do we stand by our work, we additionally like to set our customers' minds at ease by offering reliable and professional repair services. We treat all stoves with the utmost care and respect to ensure thorough and complete repairs.
Most typical stove problems
As your stove stops operating, there might be a variety of reasons:
Your electric or gas supply may be not working correctly.

If you own an

electric stove

, the power outlet may not be working correctly. Check it by plugging in a small appliance such as a hair dryer.

If there isn't any issue with your gas or power supply, there may be a faulty or worn part to blame.

One or more burners may be giving you a problem.
Keep in mind, it is always better to contact an expert for safe repairs.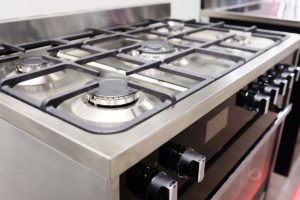 Frequently Asked Questions About Stove Repairs
As your stove needs to be repaired, you're bound to have some questions. Here we list some of the most frequently asked questions, as well as their answers, in order to assist in setting your mind at ease.
Q: How long are repairs going to take?
A: For many, time is a substantial concern. Life in Phoenix, Arizona is about as fast-paced as it gets, meaning that even the smallest of hurdles may prove to be a challenge. When you contact SRB Appliance Repair, it is possible to ensure that our team is going to come prepared with tools and parts needed to repair your stove right away.
Q: When is somebody going to repair my stove?
A: Our techs are aware of stove repair urgency. That is the reason why we provide same day stove repair service. With our team, your stove is going to be up and running as fast as possible!
Q: How do I pick the best stove repair provider?
A: At first, selecting the proper technician may seem tricky. It isn't uncommon to feel bombarded by all of the options available, yet it's vital that you have the ability to spot the best amongst the others. Reputable stove repair techs are both experienced and qualified.
Stove/ Oven/ Kitchen Appliances Repair
Home appliances are critical to an enjoyable kitchen, whether you like or just appreciate enjoy a kitchen that has modern conveniences. If your appliances in the kitchen cannot keep up with all of your demands, potentially due to inefficient performance or perhaps it us because of damaged parts that require repair, it may be frustrating. From ovens, refrigerators, microwaves and dishwashers, our technicians are here to the rescue! Do you own a kitchen appliance that requires our maintenance and repair services? Call us today at (615) 829-8199 or arrange an appointment on the internet for professional, prompt repairs from our technicians! Whether you are looking for broken oven repair, oven maintenance, or maybe you're on the lookout for a new oven and do not know where to begin, SRB Appliance Repair can gladly help.