Do you have troubles with your microwave? Let SRB Appliance Repair's microwave repair technicians fix it! Microwave ovens are discovered in hundreds of millions of houses around the world. Making hot food easily, as well as quickly accessible to you and your loved ones, they're really a miracle of modern technology. Highly efficient in their electricity use, microwave ovens utilize microwave radiation that excites fat, water, as well as sugar molecules into atomic motion—additionally referred to as heat. As this process gets hindered by damaged or broken parts, it is time for a microwave repair service from professionals you can trust.
SRB Appliance Repair is here to repair any kind of issue you have with your microwave, from unexplained sparks to improper heating. Arrange service on the internet today or get in touch with us at (615) 829-8199.
Kinds of Microwave Ovens That We Repair
Countertop: These types of microwave ovens are available in a variety of wattages and sizes; but they take up precious counter space and provide no ventilation system. We typically fix this popular kind of microwave.
Drawer style: These types of microwave ovens are installed below the countertop or wall oven, and they'll slide out. Their height makes them very convenient for all members of the family. Drawer-style microwave issues are no match for our repair professionals.
Over-the-range: Such appliance models blend a microwave oven and range hood for functionality and space saving. Our appliance repair technicians are familiar with this kind of microwave and their common problems.
Built-in: This type of oven seamlessly blends in with cabinets and have a drop-down door, similar to that of a conventional oven. Typically, they're installed over the stove. Tell us if you require a repair for your built-in microwave oven.
Microwave Brands We Typically Service:
Maytag

Whirlpool

KitchenAid

Samsung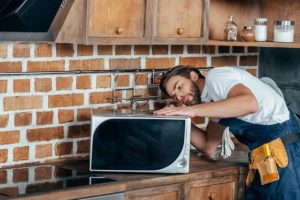 Typical Microwave Oven Problems We Fix
If you happen to come across any of the below problems, contact us for microwave repair:
Your microwave is not working
If you are certain that the microwave is plugged in and the door is properly closed, the culprit is probably the fuse. If you slammed the microwave door or the electrical current got too strong, a fuse might've blown. If replacing the fuse does not work, you also may have a faulty door switch. Contact us for assistance with microwave repair.
Sparks inside your microwave
Additionally referred to as "arcing," sparks may happen if you place utensils or foil inside the microwave oven, if a high-voltage diode shorts out, if food splatters ignite, or if a defective stirrer (from stirrer belt or broken fan motor) causes heat to concentrate within a single area. Receive microwave repair from the professionals who care.
Turntable isn't rotating
If the turntable is not rotating, the carousel might have to be re-aligned on the turning mechanism. Also, the problem might be caused by a split or worn-out turntable drive bushing. One other problem that may cause this includes a defective tray motor. Our techs will troubleshoot and then repair your microwave oven turntable.
Microwave is not heating food
If the microwave is turning on yet not heating the food, and you hear a loud buzzing sound, you might have a defective diode, capacitor, or magnetron. It is better to have these repaired or replaced by expert microwave repair techs, like the ones at SRB Appliance Repair.
Touch pad just works intermittently
The microwave's touch pad might be damaged from insect infestation or water, keeping you from correctly choosing food settings. That means you'll have to either repair or replace the touch pad to ensure correct functionality. Contact the SRB Appliance Repair   experts in your locality for a microwave oven repair you can trust!
Microwave Oven Parts
Our techs are able to replace any of these:
Magnetrons

Diodes

Stirrer belts

Drive bushings

Tray motors

Fan motors

Capacitors

Switches

Fuses

Lights
If you're experiencing a problem with your microwave, contact us for top-notch microwave oven repair service from the qualified techs at SRB Appliance Repair.
We know that a broken microwave oven is an inconvenience in your hectic life, and we really want to help by diagnosing, as well as addressing the issue as fast as we can. Just arrange service on our site or give us a call at (615) 829-8199.